A beautiful bounty hunter on a mission A handsome scoundrel on the run. When two strong wills and two empty hearts collide, there is bound to be fire and smoldering passion that will not let it die.
My Only Desire is inspired by all the women who after experiencing great personal loss shift their energy and emotion into protecting those at risk and those whose lives were similarly touched by tragedy.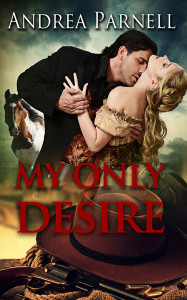 Great adversity can bring great change in a person.  In My OnlyDesire I explored this premise after noting that many organizations such as MADD, were formed by individuals following devastating personal loss.  I wondered if it could have been much the same in the old west, if a woman who experienced heart-breaking tragedy might transform into an advocate for justice.  A beautiful bounty hunter stepped up.
My Only Desire,  features the gun-toting, no-nonsense Sunny Harlowe.  Like Delilah in Delilah's Flame and Teddy in Devil Moon, she's a western woman to contend with.  You won't find Sunny corseted or coiffed to perfection or consumed with the latest fashion or longing for a beau.  You would do a double take to believe your eyes and by then it would be too late; the shrewdest bounty hunter in Colorado would have you in handcuffs.
Sunny Harlowe is a woman on a mission doing a job she was never meant to hold.  Sunshine, supper on the table, a baby in the cradle, these were her dreams.  All changed to dust in 1873 Colorado, when this darling of the mining camps,  a demure young woman and loving wife, experiences an horrific event.  Her life and hopes for the future shattered, she packs away her calico and lace, straps on six-shooters  and embraces a stunningly different future as a bounty hunter committed to bringing to justice men like those who cost her what she held most dear.
A danger for those committed to a single purpose is that they can lose all of who and what they were before.  All the sweetness, all the dreams young Sunny Harlowe had are fading away until she captures Price Ramsey, a man with a mission of his own and all the charm and persuasion needed to remind Sunny she is a woman with a woman's heart.
Download a copy at your favorite ebook store.  If you enjoy the story, Sunny, Price and I would appreciate a review.  Happy Reading.