Delilah's Flame
Get Delilah's Flame at these stores now: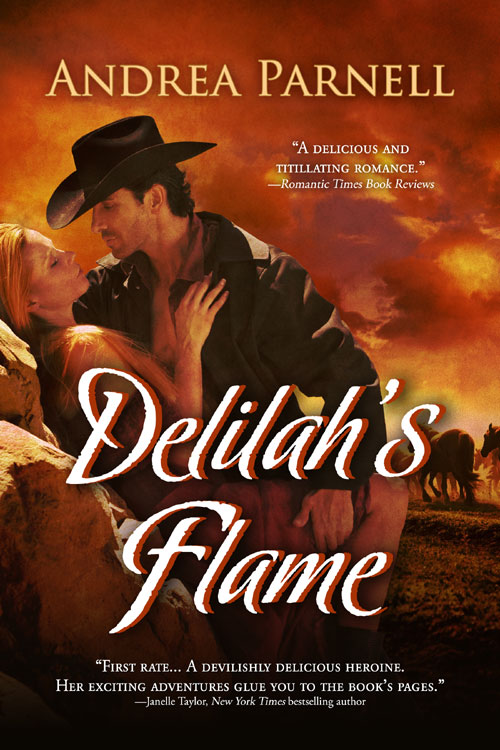 As the notorious saloon singer Delilah, Flame of the West, demure society beauty Lilah Damon secretly pursues a personal mission of revenge against the men who harmed her father.
One by one, the red-haired temptress lures them to ruin. But then Lilah makes a mistake that could bring her own downfall and disgrace.
Rugged cowboy Tabor Stanton joins Delilah in her hotel room for a private game of cards. The stake is a week of Delilah's very personal attention. But Tabor's winning hand comes up jokers as Delilah clubs him with a bottle, has him locked up on false charges–and steals his horse!
Once Tabor talks his way out of jail, he's hot on the trail of sultry songstress, determined to learn her secrets and to claim the prize she cheated him of, no matter what the cost. Tabor Stanton has never burned to possess any woman the way he burns for Delilah. And the heat of their passion may set the whole West on fire.

"First-rate…a devilishly delicious heroine. Her exciting adventures glue you to the book's pages."
—Janelle Taylor
"Delilah is a delightful, charming heroine…in and intriguing story."
–Patricia Matthews
"A delicious and titillating romance."
—Romantic Times
Cover design:Frauke Spanuth, Croco Designs