Guns & Garters
Soon to be released.
A flame-haired siren with a secret takes the stage in the Broken Spur Saloon. When the gunsmoke clears, nothing will be the same for those who came to see Delilah's show.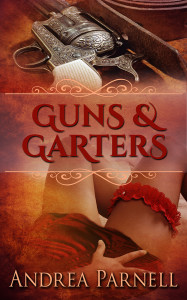 Fate brings them together:
Tabor Stanton, a rancher with a troubled past …
Teddy Gamble, a stagecoach driving spitfire …
Price Ramsey, a sharpshooter at loose ends …
Tabitha Wylde, an adventurous Englishwoman …
Cane Bowman, the man who wants nothing more than to protect Tabitha from a danger she refuses to see.
Fists will fly and passions will rise …
Meet the heroes and heroines of Andrea Parnell's sizzling Western romances in this novella-length introduction to the Guns & Garters Western Romance collection.