Devil Moon
A Guns & Garters Western Romance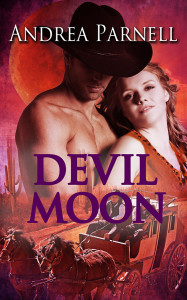 Lovely as a mountain sunset, prickly as a cactus, Teddy Gamble ran her freight company with all the sass and spirit she possessed. She didn't need a partner…especially the handsome Frenchman who'd just won half her business in a card game!
On the run from his past, a future in the Gamble Stage Line looked a lot like destiny to Rhys Delmar…especially once he arrived in Wishbone, Arizona and met the stunning pistol-toting hellion.
From the first instant, Rhys and Teddy were like gunpowder and flint, igniting sparks fated to set the West on fire. But first they had to stop a cunning rival trying to strong-arm them out of business, and find their way through the lies and secrets to a loving future together–beneath the wild, wicked, and wonderful…Devil Moon!
Available at: